Star Chart
Below is a star chart for Max, based on his birthday, supplied by my colleague LaVon. As she said herself, "No one ever believes in these things, but they are fun nonetheless."
Name: Maximilian Leist Magaret
May 23 2008, 9:34 AM (Time Zone is PDT)
Seattle, WA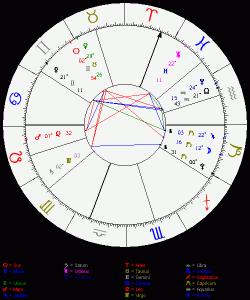 Rising Sign is in 29 Degrees Cancer
Very sensitive by nature, you prefer to be in your own familiar surroundings. Cautious and conservative, you make changes in your life only very slowly, if at all. You do not open up easily to strangers. Friendships are made for life, however — once given, your trust is forever. Your mother, your home as a child and your early family life in general are very important to you. You are also very sentimental. When you feel self- confident, you are gentle, giving and protective of the needs of others. But when you feel insecure or threatened, you become overly sensitive to criticism, shy, withdrawn and moody. You have a strong need for security — in the sense that you are being loved,
nourished and protected.
Sun is in 02 Degrees Gemini.
You have a quick, bright and agile mind, but an extremely short attention span. You love the external, kaleidoscopic aspects of life, but you tend to avoid (and even fear) deep, close emotional involvements. As such, you seem to enjoy travel and sightseeing and generally being "on-the-go." You get quite listless when things around you become static and dull, but your excitement returns whenever you are stimulated by a new idea. Chatty, inquisitive and quite playful, you enjoy practical jokes and games in general. Your moods change quickly and often — you are very restless and constantly in motion. You are known for your versatility and adaptability. Your vivaciousness enlivens any social gathering.
Moon is in 12 Degrees Capricorn.
You are serious and shy and very uncomfortable in those situations where spontaneous and exuberant emotional reactions seem called for. An achiever, you prefer doing practical, worthwhile things that produce tangible results. You need role models to respect, love and emulate. You
tend to feel that you're a failure unless you get an important and highly respected position in life. Don't be so hard on yourself! For you, practical needs always win out over emotional considerations.
Remember that you too have the right to comfort, security and love. Dutiful and patient, when you make an emotional commitment, you sign on for the long haul — your love is long- enduring.
Mercury is in 21 Degrees Gemini.
Your mind is active, quick and agile. You are very restless and you get bored easily. Unless you receive constant mental stimulation, you become extremely nervous and begin to act in an unstable manner. You are probably a good student because of your natural inquisitiveness. You also love to travel. Your learning tends to be superficial, though, because you have a relatively short attention span. Try to develop the mental discipline to finish what you start. Also, you tend to talk on at times seemingly just to fill space — make sure that your conversation has some substance to it or others will start avoiding you.
Venus is in 28 Degrees Taurus.
You are known to be a warm and affectionate person, and you tend to form long- lasting attachments. The reverse of this is that you can also be quite possessive once you have made a commitment. The beauty, luxury and comfort of your surroundings are important to you and you will devote much time and energy to making your home just right. Beware of your tendency toward self-indulgence, especially with respect to eating incorrectly. You also need outside stimuli to get you in gear When things come too easily for you, you can be lazy and indolent.
Mars is in 07 Degrees Leo.
You are a very proud person. Strong, bold, courageous and self-possessed, you love to be the one to initiate significant actions. When people expect a lot of you, you respond positively and will work
hard in order to maintain their respect. But when your dignity or pride is threatened, you tend to become sarcastic, arrogant and domineering. Try not to take any challenge or resistance that you meet as a personal affront. You are very stubborn about your right to live your life
according to your own principles.
Jupiter is in 22 Degrees Capricorn.
You tend to feel that the only results that are worthwhile are the results that are concrete and demonstrable. You distrust abstract solutions and appreciate measurable achievements. An excellent organizer and planner, you are optimistic as well as practical and realistic about what can and what cannot happen. Very responsible, you consider it a personal weakness to be wrong about anything. This makes you appropriately cautious. You are very efficient but you tend to be cool
and detached.
Saturn is in 02 Degrees Virgo.
Your life must be orderly and practical and full of known and familiar routines in order for you to feel comfortable with yourself. Be careful, however, not to let "order" become the be-all and end-all of your life, or you may become cold, crass and unfeeling. Doing useful, practical things boosts your self- esteem. Abstract concepts and reasoning seem frivolous and a waste of time to you. You are very critical of yourself (and others), indeed at times quite self-deprecating. Try to relax a bit and allow yourself the freedom to fail once in a while. However, you probably won't fail very often because you are such a perfectionist.
Uranus is in 22 Degrees Pisces.
You, and most of your peers, are extremely idealistic and want to change society by completely reorienting its highest religious goals and aspirations. Just be careful to make sure that your new goal structures are properly grounded in reality so that they have a chance of being accepted by the majority.
Neptune is in 24 Degrees Aquarius.
You, and your entire generation, will idealize and even venerate the ability to remain detached as well as the ability to objectively analyze any given situation. There will be a concerted effort on your part to cure the ills of society as a whole. But be very careful to continue to maintain and protect the rights of individuals in the midst of these potentially far-reaching changes.
Pluto is in 00 Degrees Capricorn.
For your entire generation, this is a period of intense changes in the very fabric of society. Many accepted institutions may pass away or be born anew. The good of the community as a whole will be stressed and individual rights may come under attack. This will possibly be a period of decay that will lead to a new order.
N. Node is in 21 Degrees Aquarius.
As long as someone else (or a group or organization) appeals to your intellectual sensibilities, you'll try to ally yourself with them in some way. You may find that you always seem to get involved with many wide-ranging groups — so much so that you find it difficult to fit them all into your busy schedule. Your many friends and acquaintances provide you with needed stimulation. You're loyal and fair-minded — you try to spend time equally with all your friends, never concentrating on just one or two for any length of time. Although probably quite conservative yourself, you're attracted to those who are a bit offbeat or eccentric — you enjoy watching their minds work.