There was a bulk delivery of snow last night, starting just before we slept.  It was what Seattle calls a blizzard, but what Eastern Washington refers to as a light dusting, and what Norway regards as springtime.  So we all awoke to a few inches of light, fluffy snow on the ground.  With global warming threatening to eliminate snow from our lives at any moment, we felt that it was imperative to expose Max to the stuff as the soonest opportunity.
I can't say that Max seemed very impressed, or even interested.  We let him play with it, we pelted him a few times with well-packed snowballs, and ignoring the advice of my Boy Scout Handbook, we even let him eat some.  Behold, his abyssal interest level: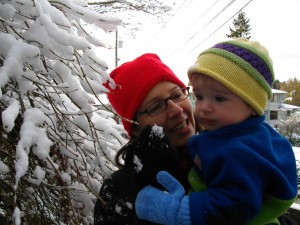 It didn't seem to be a big hit.  In fact, he seems to express more interest in packaging materials.  Undaunted, we decided to go straight for the excitement:  Max's first sledding experience, using a deep-dish pizza pan as his vehicle.  He traveled — in the company of his mom — about fifteen feet over four seconds, but alas, it didn't seem to faze him.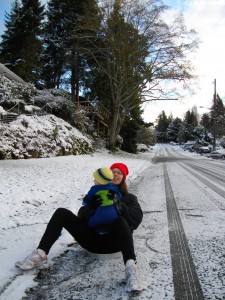 So anyway.  With his apparent lack of interest in snow, maybe he won't mind global warming after all.