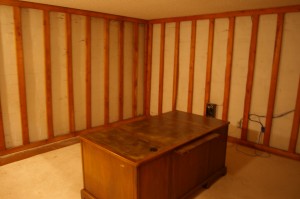 You might be wondering why there's a photo of a gutted room on Max's blog.  The reason is that this room — that desk in particular — is where my computer used to reside.  And this room is currently under renovation, so we are experiencing a dearth of computing resources at Chez Magaret.
What does this mean to you, the loyal Maxwatcher?  This means that updates to the photo gallery likely won't be coming until later, although I will still try to update the blog when circumstances allow, with photos.  Especially fun photos like this one:
Granted, this is assuming that the remodel goes according to schedule, which should have the computer back in action before the end of the year.  If that's not the case, we may have to improvize.
Still, Max is doing well.  No news for now, but it will come as we find the time.