Max is six months old today.  Hooray!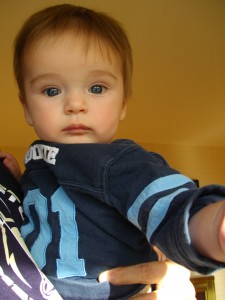 This is a noteworthy day in at least one (morbid) regard:  this is the point in which SIDS is no longer a realistic threat.
To celebrate his robust health, we took him for a walk through Ravenna Park.  He got to interact with lots of dogs, explore lots of plants, and stare rapturously at a babbling brook.  He even tolerated the embarrassing antics of his frolicking parents.
It was altogether a beautiful day, albeit cold.  Of course, an outdoor adventure on a briskly cold day isn't complete without at least one au naturale diaper change.
For some quick (inaccurate) morphometrics:  we weighed him again, via displacement method, and he came in at around 17 pounds.  This means his his birthweight has been doubled-and-a-half.