Our current nanny, Kendra, gave notice just under a month ago.  After a year of stellar service, she decided to hang up her spurs and get a real job.
Which means that we need to find a replacement.  It has been neither easy, nor fun.  Well, actually, Amalia has been doing all the work, so in way it has been really easy, for me at least.  Ah yes, if all things in life were so simple.
This time around we're going to have a significant change:  this will be a nanny-share operation.  We'll be teaming up with another family (that of Amalia's former classmate Carolyn), who has a kid roughly Max's age named Evan, and the nanny will do her best to keep both of them in order.  Kind of like a border collie.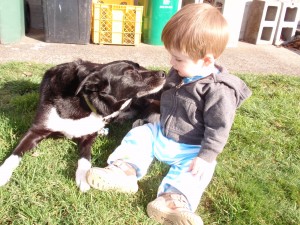 Amalia posted an ad on craigslist and received a cataract of responses.  As in, over one hundred.  In spite of the request in the ad in include a resume, only about a quarter had them attached.  Amalia hand-picked a few candidates, ran them through a rigorous phone-screen designed to filter out psychopaths (surprisingly, there were only two, and we interviewed one of them  anyway, just for laughs), and we called in a few candidates for interviews.
Five candidates walked in, and cage-match style, only one emerged victorious.  Well, actually, an offer hasn't been made yet, but there's a clear contender, and I think the final word will be just a matter of communication.
Until then, Max and Evan will remain biweekly play-buddies.