Q:  What does the snack food "Pirate's Booty" and soap bubbles have in common?
A:  They are among Max's first verbal words.
On Friday night, Amalia and I left Max with a babysitter, and not only did he not cry at our absence, but when we got back he was speaking a new word.
"Bubble."
Or maybe it's "bible".  We're not sure.  He says it when we start blowing bubbles and he gets all excited, so that's a clue.
Max has been communicating quite effectively via sign language for a while, but hasn't really picked up any clear verbal speech.  His grunts can speak volumes, but words have been a little bit elusive.
Sometimes he's been saying "ma-ma-ma-ma-ma", or "da-da-da-da", and he's even occasionally got the context correct.  But other times he'll say one of these to the cat, or the garbage can, or the spatula.  So it's never been really clear that he's been trying to say words.
Then came, "Uh oh."
Repeated by Kendra whenever she dropped everything, it soon became Max's catch phrase.  Drop the fake chicken nugget onto the floor.  "Uh oh."  Knock over the magnetic tower I built for him to knock over.  "Uh oh."  Run out of raspberries.  "Uh oh."  Watch the vortex of Drosophila swirl above our compost bucket.  "Uh oh."
We're not sure when he started saying "Booty", and we assume that it pertains to the Pirate's Booty snack food.  That is, he says it whenever he wants to eat it.  I suppose he could be referring to something else and is still working on context issues, but the evidence is highly in his favor.  It didn't come immediately.  He sounded like Jabba the Hut for a while ("Booda-booda!"), but now he's got it down.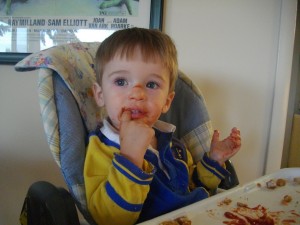 And as mentioned already, just by leaving him alone with Rana for a couple of hours, he picks up the world "bubble".
("Bubble booty?"  I'd rather not think about it.)
But even as Max is only starting to get his English skills down, he's been fluently speaking with crows for about a month now.  So English is only his second language.