A lot has been going on lately, so I thought I would provide a quick update.
To whit:
That mystery tooth, it's still a-growin.  It's plainly visible now (although difficult to photograph, like Sasquatch), and man, he can really grind that sucker into your flesh when he wants to.  If I didn't know any better, he seems to enjoy it.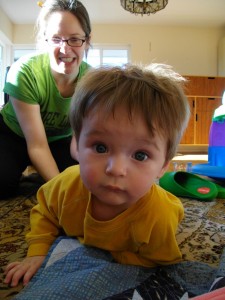 Also, Max's cold/flu/leprosy/whatever has receded.  It only lasted a few days, and while he (like his father) still coughs occasionally (okay … frequently), he's in much better spirits, as if the entire episode has been forgotten.  That little dude has some heavy fortitude.  His goofiness is back, he's wrestling once again, and the house's morbid, sanitarium-like atmosphere has abated.
Max has even started sleeping through the night again, back to a 50/50 schedule.  Here's to hoping that things improve!