In summary:
Maximilian Leist Magaret was born on 23 May 2008, at 9:34 a.m.
Weight: 7 pounds, 9 oz.
Length: 20 inches
He was delivered via cesarean section after approximately 18 hours of labor. Both mother and child emerged healthy, albeit confused.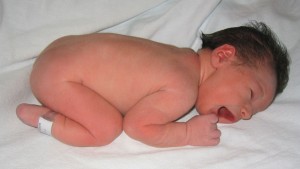 I'm not sure where the shock of black hair came from. I'm starting to regard the UPS man with suspicion.
The name "Leist" is a family name: the maiden name of my paternal great grandmother, and Max is carrying on the tradition of my great uncle, John Leist Magaret.