Friday, December 26th, 2008
Max spent his first Xmas holiday in Tucson, Arizona, with much of Amalia's family.  The trip here was fine — another uneventful flight, with Max largely cooperating the entire time — and the weather is what you'd expect of Arizona in the winter:  roughly 60 degrees F.  A nice break from the Zhivago-esque landscape we left behind back in Seattle.
Technically, Max had some gifts at the house in Seattle, shipped to us from various relatives, that we let him dig into before our departure.  He hasn't exactly figured out the "unwrapping" thing yet.  Amalia could sometimes convince him to tear away sheets of wrapping paper, but then he'd just try to stick the paper in his mouth, or start gumming the box.
This type of behavior didn't change much in Arizona.  He got to meet some new relatives, re-meet some old ones, and take part in lots of gregarious festivities.
I didn't take many photos myself, and of those I took, only a few were salvageable, so please bear with me.  Amalia's brother, Matt, took some better photos that he sent us on CD-R, which I'll try to put on the photo gallery when I get time.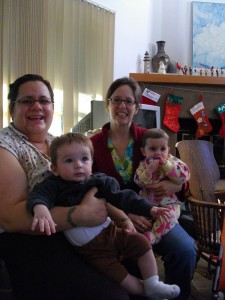 All in all, it was a fun event with no major injuries, Max made lots of friends, and his feet almost never touched the ground in over two days.